Sports-related wrist and hand injuries: a review
Journal of Orthopaedic Surgery and Research
2016
11:99
Received: 27 May 2016
Accepted: 28 August 2016
Published: 16 September 2016
Abstract
Background
Hand and wrist injuries are common during athletics and can have a significant impact especially if initially disregarded. Due to their high level of physical demand, athletes represent a unique subset of the population.
Main body
The following is an overview of hand and wrist injuries commonly seen in athletics. Information regarding evaluation, diagnosis, conservative measures, and surgical treatment are provided.
Conclusion
Knowledge of these entities and special consideration for the athlete can help the team physician effectively treat these players and help them achieve their goals.
Keywords
Hand injuriesWrist injuriesSportsReturn to playLigamentFractureSurgical treatment
Background
Approximately 25 % of all sports-related injuries involve the hand or wrist [1, 2], and incidence is growing not only due to the competitive level of high school and collegiate athletes but also due to the activity level of the general population [3]. While the shoulder and knee are the commonly thought of in athletic injury, hand and wrist injuries are common and can have a significant impact especially if initially disregarded with a resultant delay to treatment.
Due to the high level of physical demand for function, athletes represent a unique subset of the population. Injury time can have a significant impact on scholarship opportunities or jeopardize professional aspirations with direct financial impact. Knowledge of common sports-related injuries and therapeutic strategies can help the physician effectively treat the athlete considering their sports, position, and timing during season. The following is an overview of hand and wrist injuries commonly seen in athletics. Information regarding evaluation, diagnosis, conservative measures, and surgical treatment are provided.
Radial-sided wrist injuries
Scaphoid fracture
Scaphoid fractures are the most commonly injured carpal bone [4] with a high incidence in college football players [5] and an increasing incidence in female athletes [6]. This hyperextension wrist injury tends to occur in a pronated, radially deviated hand. Presentation can range from disabling wrist pain to mild swelling and decreased range of motion. It is not uncommon to find a scaphoid nonunion with a remote history of a wrist sprain.
Located at the radial side of the carpus, athletes will complain of radial-sided wrist pain with exquisite tenderness in the anatomical snuff box, axial loading of the thumb, or pincer grasp. Radiographic assessment of the wrist should include a posteroanterior (PA), lateral, and ulnar deviated view. Unfortunately, due to subtle fracture lines and the irregular contour of the scaphoid, nondisplaced fractures can be missed on radiographs and advanced imaging with computed tomography (CT) scan for fracture identification or alignment. Additionally, magnetic resonance imaging (MRI) or bone scintigraphy for occult fracture may be needed to confirm the diagnosis [7, 8].
Treatment decisions depend upon fracture location and displacement, with strong surgical consideration being given to scaphoid fractures which are displaced and/or proximal. Whether treatment affects the athlete's continued participation in his or her sports within the context of the status of the season may also play a role in determining whether or not to operate. Due to retrograde blood supply, distal pole scaphoid fractures can effectively be treated nonsurgically. Proximal pole fractures are prone to avascular necrosis and necessitate stronger surgical consideration [
9
,
10
]. Likewise, displacement carries a relatively increased risk of nonunion and we would recommend surgical fixation. Operative management, mostly commonly in the form of headless compression screw fixation, often offers the fastest return to sports [
11
]. Cast immobilization may provide appropriate definitive treatment in a nondisplaced fracture or a temporizing measure for return to play. Return to athletic participation is based upon the athlete's handedness, his or her specific sports' requirements, and negotiating the bulk or restriction of the cast with respect to dexterity and/or strength [
12
] (Fig.
1
).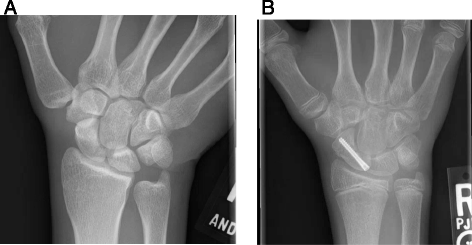 Scapholunate ligament tears
Wrist instability commonly occurs in a spectrum of severity in hyperextension injuries. Contact sports such as football or rugby commonly place the athlete in a position of impact with hyperextension, ulnar deviation, and supination of the wrist that can lead to these injuries.
Because of the proximity of structures in the wrist, diagnosis of these injuries can be challenging. Pain in a loaded, extended wrist with tenderness in the dorsal wrist at the interval between the third and fourth extensor compartments suggests possible scapholunate (SL) interosseous ligament injury. Standard radiographic assessment with PA and lateral views may appear normal only showing increased flexion of the scaphoid (a signet ring sign on the PA view as in Fig.
2a
). A PA clenched fist view may show greater than 5 mm of widening between the scaphoid and lunate (Terry Thomas sign) is diagnostic of a complete SL ligament tear [
13
]. Chronic tears may demonstrate a static SL gap on the PA film and an increased SL angle on the lateral consistent with dorsal intercalated segmental instability (DISI). Advanced imaging is commonly needed in the form of MRI with or without contrast arthrography [
14
].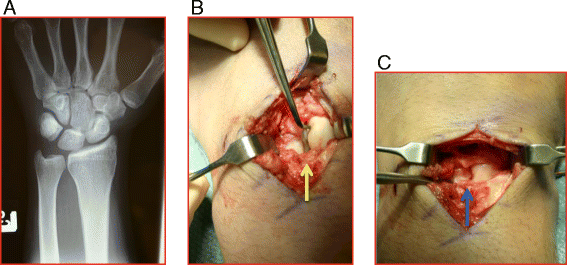 Suspected tears or partial tears can respond to immobilization allowing the participant to still compete. Those with continued pain and dysfunction that interferes with their level of play will require wrist arthroscopy. Geissler et. al. [15] developed an arthroscopic grading system which helps guide management that ranges from immobilization for attenuation of an intact ligament to open reduction and repair for gross instability.
Radial-sided tendinopathies
Radial-sided wrist pain from overuse injuries requires careful evaluation. Accurate diagnosis using provocative maneuvers and identifying the precise location of maximal tenderness are paramount. Radiographic assessment can be indicated for ruling out fracture depending on the patient's history. Advanced imaging, such as MRI, is not routinely used.
The most common tendinopathy in the athlete is de Quervain's tenosynovitis [16]. Repetitive thumb extension and abduction can lead to a thickening of the abductor pollicis longus and extensor pollicis brevis tendons as they pass under the first extensor compartment retinaculum. Tenderness to palpation is approximately 2 cm proximal to the radial styloid and exacerbated by tucking the thumb under the other fingers while ulnarly deviating the wrist (a positive Finkelstein's sign) [17, 18].
Intersection syndrome, also called Oarsman's wrist, is caused by friction at the crossing of the tendons of the first extensor compartment as they pass over the tendons of the second extensor compartment (extensor carpi radialis longus and brevis) or a stenosing tenosynovitis within the second extensor compartment itself [19]. Pain is elicited with extension and radial deviation approximately 4–8 cm proximal to the radial styloid. Without careful attention to the location of pain, this can be misdiagnosed as de Quervain's tenosynovitis.
Tendonitis of the flexor carpi radialis is due to repetitive wrist flexion or acute overstretching of the wrist as can be seen in volleyball or water polo [20]. Pain develops from tendon thickening as it runs in its tunnel adjacent to the carpal tunnel. Pain typically courses from the radial palmar wrist crease towards the base of the second metacarpal made worse by resisted wrist flexion.
Conservative treatment for these tendinopathies begins by avoiding inciting events. Immobilization, stretching techniques, ice, and nonsteroidal anti-inflammatory medications can effectively diminish symptoms. Should symptoms persist, anesthetic/corticosteroid injections into the responsible tendon sheaths at the point of maximal tenderness can be of diagnostic and of therapeutic benefit. When recalcitrant to conservative measures, surgical release of the respective tunnel or compartment may be warranted.
Ulnar-sided wrist injuries
Conclusions
Hand and wrist injuries in athletics are common and can have a significant impact in multiple areas. Knowledge of these entities and special consideration for the athlete can help the team physician effectively treat these players and help them achieve their goals.
Abbreviations
PA:

Posteroanterior
CT:

Computed tomography
MRI:

Magnetic resonance imaging
SL:

Scapholunate
DISI:

Dorsal intercalated segmental instability
ECU:

Extensor carpi ulnaris
TFCC:

Triangular fibrocartilage complex
US:

Ultrasound
FDP:

Flexor digitorum profundus
UCL:

Ulnar collateral ligament
MCPJ:

Metacarpophalnageal joint
IP:

Interphalangeal
ROM:

Range of motion
AP:

Anteroposterior
K-wires:

Kirschner wires
PIP:

Proximal interphalangeal
EDC:

extensor digitorum communis
DIP:

Distal interphalangeal
FDS:

Flexor digitorum superficialis
Declarations
Acknowledgements
No additional acknowledgements.
Funding
No funding sources were utilized in the preparation of this review.
Availability of data and materials
All specified information and data was retrieved from original and review articles readily available through PubMed.com.
Authors' contributions
DMA formulated the outline, searched and retrieved the articles, and drafted the manuscript. CMR and CME assisted in the outline and drafting/revision of the manuscript. All authors read and approved the final manuscript.
Authors' information
DMA is a current Orthopaedic Sports Medicine fellow that will be matriculating into Hand and Microvascular fellowship following its completion. CMR is an assistant professor of Orthopaedic Surgery and Hand surgeon with certificate of added qualification in hand surgery. CME is an assistant professor of Orthopaedic Surgery and Orthopaedic Sports Medicine physician and team doctor with certificate of added qualification in Sports Medicine.
Competing interests
The authors declare that they have no competing interests.
Consent for publication
Gross, radiographic, and magnetic resonance imaging are nonidentifiable.
Ethics approval and consent to participate
Not applicable.
Open AccessThis article is distributed under the terms of the Creative Commons Attribution 4.0 International License (http://creativecommons.org/licenses/by/4.0/), which permits unrestricted use, distribution, and reproduction in any medium, provided you give appropriate credit to the original author(s) and the source, provide a link to the Creative Commons license, and indicate if changes were made. The Creative Commons Public Domain Dedication waiver (http://creativecommons.org/publicdomain/zero/1.0/) applies to the data made available in this article, unless otherwise stated.
Authors' Affiliations
(1)
University of Connecticut Musculoskeletal Institute, Farmington, USA