Role of apoptosis in pathogenesis and treatment of bone-related diseases
Samaneh Mollazadeh

1,

Bibi Sedigheh Fazly Bazzaz

2 and

Mohammad Amin Kerachian

3, 4

Email author
Journal of Orthopaedic Surgery and Research
2015
10:15
Received: 3 October 2014
Accepted: 2 January 2015
Published: 28 January 2015
Abstract
In this article, bone cells and their intercellular communications have been reviewed. Gap junctions and hemichannels are the main routes of interactions in bone tissue. They play a substantial role in survival and cell death, since pro-apoptotic signals can propagate through them. Different adhesion molecules are required for apoptosis, particularly caspase family as well as noncaspase proteases. The disruption outcome of apoptosis could result in bone-related diseases such as osteonecrosis. Anti-apoptotic strategies include inhibition of caspase, poly [ADP-ribose] polymerase (PARP), and Bcl-2 proteins as well as induction of the PKB/Akt pathway and inhibitors of apoptosis (IAP) family of proteins. Thus, understanding the mechanism of apoptosis gives detailed insights of anti-apoptotic molecular targets. Based on these targets, different treatments were designed and produced such as estrogen replacement therapy, administration of different bisphosphonates, raloxifene, calcitonin, sodium fluoride, calcium, and vitamin D. As a result, new applicable drugs for treatment of related bone problems can be proposed for clinical approach especially in the early stage of diseases.
Keywords
ApoptosisBone disorderCell-cell interactionsGap junction
Introduction
Bone as a mineralized and dynamic tissue supports and protects the rest of body [
1
,
2
]. Different kinds of stimuli affect the modeling and remodeling process in the bone tissue [
3
,
4
]. These include endocrine, paracrine, and autocrine factors, direct cell to cell communication through gap junctions [
5
], with greater frequency of connexin 43 (C×43), connexin 45 (C×45), and connexin 46 (C×46) [
3
] and cell-to-matrix communication through hemichannels [
6
]. Besides, coordinated interaction between bone cells plays a considerable role in bone remodeling [
7
]. The main bone cells are osteoblasts, osteocytes, and osteoclasts. Osteoblasts, which are responsible for maintaining skeletal architecture, originate from pluripotent mesenchymal cells [
2
,
8
]. The most abundant bone cells are osteocytes, differentiated osteoblasts, lying in the lacunar space enclosed by the bone matrix [
9
,
10
]. Osteocytes compose lacunar-canalicular network by their cytoplasmic dendrites that connect them to each other and to cells on the bone surface, important for intracellular and extracellular communication (Figure
1
) [
11
,
12
]. The third main class of bone cells is osteoclast. Osteoclasts are giant multinucleated cells with abundant mitochondria, multitudinous lysosomes, and free ribosomes [
2
,
13
]. These cells differentiated from hematopoietic stem cells and are responsible for bone resorption [
14
,
15
], that is dissolving and breaking down mineral and organic substrates [
16
].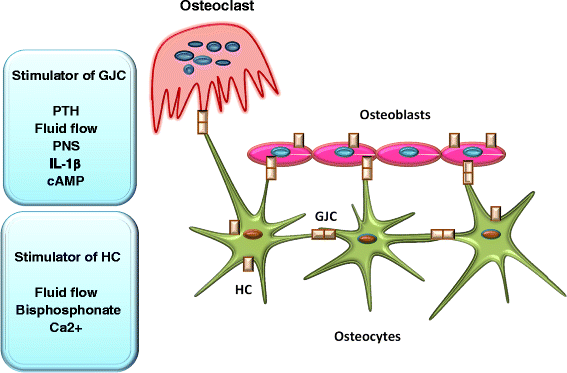 This article provides an overview of what is currently known about cell death in the osteoclast and osteoblast lineages and how the death of these cells may be related to clinically important bone diseases.
Conclusion
To sum up, bone diseases especially the intolerable ones could be treated in the early stages of the disease via therapeutic factors triggering the anti-apoptotic pathways. Based on preclinical studies, molecular routes encourage us to think about practical target achievements. However, molecular therapies should be used with more care because of their bilateral role in some cases.
Declarations
Acknowledgements
The authors are thankful to the Vice Chancellor of Research, Mashhad University of Medical Sciences, Iran, for the financial support. This article is part of PhD thesis (SM).
Authors' Affiliations
(1)
Biotechnology Research Center, Mashhad University of Medical Sciences, Mashhad, Iran
(2)
Biotechnology Research Center, School of Pharmacy, Mashhad University of Medical Sciences, Mashhad, Iran
(3)
Medical Genetics Research Center, Faculty of Medicine, Mashhad University of Medical Sciences, Mashhad, Iran
(4)
Department of Medical Genetics, Faculty of Medicine, Mashhad University of Medical Sciences, Mashhad, Iran
Copyright
© Mollazadeh et al.; licensee BioMed Central. 2015
This is an Open Access article distributed under the terms of the Creative Commons Attribution License (http://creativecommons.org/licenses/by/4.0), which permits unrestricted use, distribution, and reproduction in any medium, provided the original work is properly credited. The Creative Commons Public Domain Dedication waiver (http://creativecommons.org/publicdomain/zero/1.0/) applies to the data made available in this article, unless otherwise stated.