Biology and augmentation of tendon-bone insertion repair
Journal of Orthopaedic Surgery and Research
2010
5:59
Received: 1 June 2010
Accepted: 21 August 2010
Published: 21 August 2010
Abstract
Surgical reattachment of tendon and bone such as in rotator cuff repair, patellar-patella tendon repair and anterior cruciate ligament (ACL) reconstruction often fails due to the failure of regeneration of the specialized tissue ("enthesis") which connects tendon to bone. Tendon-to-bone healing taking place between inhomogenous tissues is a slow process compared to healing within homogenous tissue, such as tendon to tendon or bone to bone healing. Therefore special attention must be paid to augment tendon to bone insertion (TBI) healing. Apart from surgical fixation, biological and biophysical interventions have been studied aiming at regeneration of TBI healing complex, especially the regeneration of interpositioned fibrocartilage and new bone at the healing junction. This paper described the biology and the factors influencing TBI healing using patella-patellar tendon (PPT) healing and tendon graft to bone tunnel healing in ACL reconstruction as examples. Recent development in the improvement of TBI healing and directions for future studies were also reviewed and discussed.
Keywords
Anterior Cruciate LigamentRotator CuffAnterior Cruciate Ligament ReconstructionAnterior Cruciate Ligament InjuryMedial Collateral Ligament
1. The Attachment of Tendon to Bone - Tendon-Bone Insertion (TBI)
The attachment of tendon to bone presents a great challenge in engineering because a soft compliant material (tendon) attaches to a stiff (bone) material[
1
]. A high level of stress is expected to accumulate at the interface due to the difference in stiffness of the two materials[
2
]. This problem is solved by the presence of a unique transitional tissue called "enthesis" at the interface which can effectively transfer the stress from tendon to bone and vice versa through its gradual change in structure, composition and mechanical behavior. There are two types of entheses at the tendon to bone insertion (TBI) based on the how the collagen fibers attach to bone[
3
]. Direct insertions (also called the fibrocartilaginous entheses), such as the insertion of anterior cruciate ligament (ACL), Achilles tendon, patellar tendon, and rotator cuff as well as femoral insertion of medial collateral ligament (MCL), is composed of four zones in order of gradual transition: tendon, uncalcified fibrocartilage, calcified fibrocartilage and bone (Figure
1
). The continuous change in tissue composition from tendon to bone is presumed to aid in the efficient transfer of load between the two materials. Current research also indicates that the mineralized interface region exhibited significantly greater compressive mechanical properties than the non-mineralized region[
4
]. In direct insertions, tendon/ligament fibers are passed directly into the cortex in a small bone surface area. Superficial fibers are inserted into the periosteum, but deep fibers are attached to bone at right angles or tangentially in the transition. Indirect insertions (also called fibrous entheses), such as the tibial insertion of the MCL and the insertion of the deltoid tendon into the humerus, has no fibrocartilage interface. The tendon/ligament passes obliquely along the bone surface and inserts at an acute angle into the periosterum and is connected by Sharpey's fiber over a broader area of tendon and bone[
5
,
6
]. Indirect and direct insertions confer different anchorage strength and interface properties at the tendon-bone interface. The main factors affecting the type of insertion seem to be strain, site, length and angle of insertion. When a ligament runs parallel to the bone, as in the MCL, the insertion is more likely to be indirect, while when the ligament enters the bone quite perpendicularly (as in ACL), the insertion is direct. Indirect insertion may be elevated off the bone without cutting the ligament itself, where direct insertion requires cutting the substance of the ligament to detach it[
7
].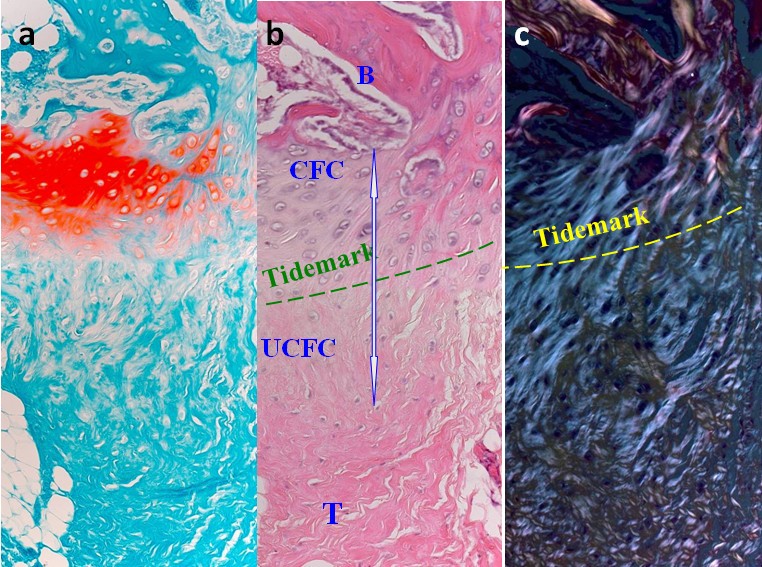 TBI injuries are very common in sports. Surgical reattachment of tendon and bone often fails and presents difficulty for tendon to bone healing due to the lack of regeneration of this specialized structure[8–15]. For example, the failure rates for rotator cuff repair have been reported to range from 20% to 94%[16, 17]. Similarly, ACL reconstruction, which requires a tendon graft to be put inside a bone tunnel, has failure rate ranged 10%-25%, depending on the evaluation criteria used[18]. It is hypothesized that poor vasculature at the fibrocartilage zone in the enthesis may contribute to the poor healing response. However, the issue is more complicated as factors like mechanical loading, extracellular matrix composition and biological factors are likely to interact to affect the healing outcome. Better understanding of its natural healing process as well as factors influencing its healing is essential to the improvement of outcome of TBI healing. This paper therefore aimed to review the biology of healing in preclinical animal models as well as the current biological and biophysical treatment modalities for the augmentation of the regeneration of TBI, using direct tendon to bone repair in patellar-patella tendon (PPT) and tendon graft healing inside a bone tunnel in anterior cruciate ligament (ACL) reconstruction as examples.
2. Challenges in Different Types of TBI Healing
2.1 ACL reconstruction
ACL is an important static stabilizer of the knee. Tears or ruptures of ACL are very common painful injuries, especially in sports medicine. Our previous study showed that 38.5% of male patients who underwent knee arthroscopy following trauma had ACL tears[19]. ACL cannot repair itself when injured. ACL reconstruction is therefore frequently performed in order to restore joint stability and thereby minimize injury to both the chondral surfaces and surrounding tissues. Approximately 95,000 incidences of acute rupture of ACL occur and more than 50,000 knees are reconstructed annually in US[20]. Conventional ACL reconstruction is not a universally successful procedure, with failure rate ranged 10%-25%, depending on the evaluation criteria used[18]. The clinical challenges associated with ACL reconstruction are graft laxity and inferior mechanical properties compared to those of native insertion; unsatisfactory time and protocol for rehabilitation and donor site morbidity.
As ACL has poor healing capacity, reconstruction of ACL with tendon graft is commonly performed. Autologous bone-patellar tendon bone and hamstring grafts are presently the most commonly used grafts for ACL reconstruction, with the use of hamstring tendon autograft becoming more popular given the morbidity induced by using bone-patella tendon-bone autograft. It is important to note that bone-to-bone healing occurs within the tunnels in the bone-patellar tendon bone graft whereas tendon-to-bone healing happens in hamstring graft without bony ends. With the growing popularity of using the hamstring graft for ACL reconstruction, studies on the biology and treatment options for improvement of tendon graft to bone tunnel healing have become the focus of research in ACL reconstruction.
2.2 PPT repair
Trauma, overloading or chronic disorder induced injuries to the human patella-patellar tendon complex are not uncommon, such as in patellar fracture, patellar tendon rupture or separation of the patellar tendon from the patella. If injuries involve the patella, the clinical treatment can be fracture repair, partial or even total patellectomy[21, 22]. It is well known that the patella is an important functional component of the extensor mechanism of the knee[23]. Therefore, the perceived role of the patella in knee function has profoundly influenced the preferred treatment of injuries to the PPT complex. Since total patellectomy results in permanent dysfunction of the knee with decreased extensor strength, extensor lag, quadriceps atrophy, and ligamentous instability, every effort should be made to preserve as much of the patella as possible and to understand the healing taking place at two different or imhonogenous tissues between patellar tendon and remaining patella. We also demonstrated the inferiority of PPT healing as compared to healing in patellar fracture (bone to bone repair), with no typical intermitted fibrocartilage zone as seen in normal TBI[24].
3. Animal models for the study of TBI Healing
3.1 ACL reconstruction
In order to better understand the biology of tendon graft to bone tunnel healing after ACL reconstruction and to develop strategies for the improvement of outcome, animal models are essential. Rabbit, rat, canine and sheep models have been developed and used for the study of natural tendon graft to bone tunnel healing and treatment outcomes. Compared with other animal models, rabbit and sheep models are more commonly used due to their low cost and large size, respectively. Only a few research groups have used rat model due to its small size and hence the difficulty in performing the surgery. Our group has established both the rabbit and rat models[
25
–
30
]. Under general anesthesia, the tendon graft is harvested. The ACL is then excised after medial parapatellar arthrotomy. A tibial tunnel and a femoral tunnel with diameter matching the graft diameter are then created from the footprint of the original ACL to the medial side of the tibia or lateral-anterioral femoral condyle, respectively, with an angle of 55° to the articular surface. The tendon graft is then inserted and routed through the bone tunnels, fixed on the femoral and tibial tunnel exits with suture tied over the neighboring periosteum at maximum manual tension at 30° of knee flexion. Soft tissue is then closed in layers (Figure
2
). The animals will be allowed to have free cage movement immediately after operation as desired clinically.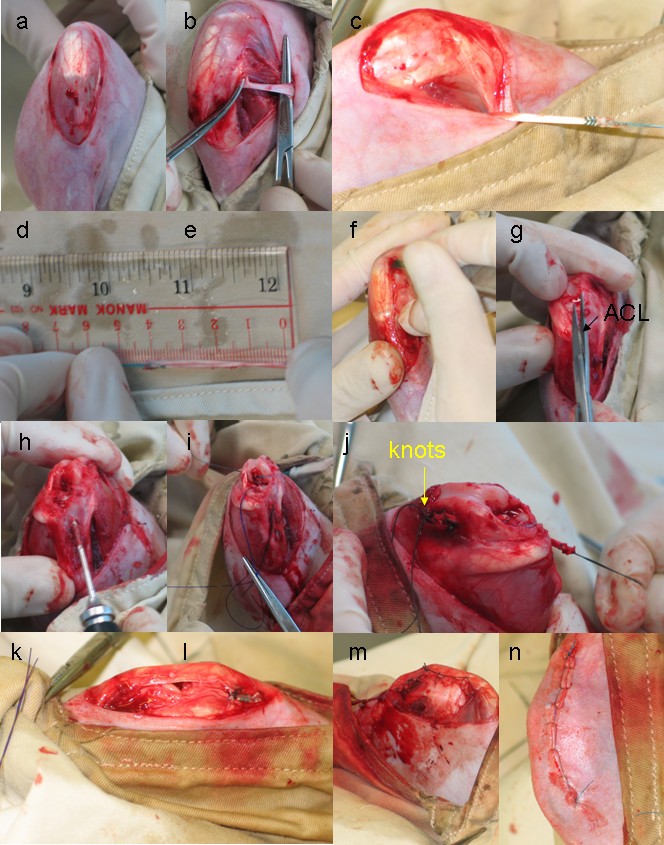 3.2 PPT repair
Direct tendon to bone healing has been studied in different TBI sites using different animal models, including patella-partellar tendon (PPT), Achilles-calcaneus insertion, and rotator cuff tendon in rats, rabbits, canine and baboons[31–33]. Using a partial patellectomy model in rabbits, we have investigated TBI natural healing extensively in the past years[24, 33–35]. The beauty of this model is that the sagital section of PPT provides a unique and internal comparison of healing between tendon-to-bone (patellar tendon to the proximal remaining patella) and tendon-to-cartilage (patellar tendon.to articular cartilage of the proximal patella).
Because of poor healing capacity in TBI and TBI healing is often delayed in both experimental models [36, 37] and patients [38], how to accelerate its healing process therefore becomes a focus of our musculoskeletal research, including studies using rotator cuff model in dogs [39] and in rats [40] as well as studies from authors' group where we used partial patellectomy model in both goats [33] and rabbits[41–44]. Apart from testing better fixation protocols, such experimental models provide a useful platform for evaluation of potential biological and biophysical interventions developed for the acceleration and/or enhancement of TBI repair.
4. Nature Healing Process and Factors Affecting TBI Healing
4.2 PPT Repair
Using the PPT rabbit model, we have described the process of direct TBI healing[32]. The healing process consisted of 4 stages: inflammation, scar tissues formation, osteogenesis and its remodeling, and regeneration of fiborcartilage-like-zone[34, 43, 44, 78, 79]. Our results consistently suggested that new bone formation and its size predicted the quality of its postoperative healing quality[24, 78]. Structurally, we reported that more new bone formed at the patella-patellar tendon healing interface was associated with better regeneration of interpositional fibrocartilage[78]. This is an important bony index for studying the treatment efficacy of potential interventions in vivo or clinically. Whether the findings generated from the PPT healing may also be generalized for radiographic prediction of direct TBI healing quality in regions like Achilles-calcaneus and rotator cuff needs further experimental and clinical investigations.
5. Recent Development in the Improvement of TBI Healing
The current treatment and subsequent rehabilitation strategies can be categorized into 3 approaches: surgical or technical, biological and biophysical (Figure
5
)[
80
–
83
]. A good combination of surgical, biological and biophysical enhancement may improve surgical prognosis and enhance postoperative repair. Figure
6
summarized the current treatment methods for TBI repair based on these 3 approaches.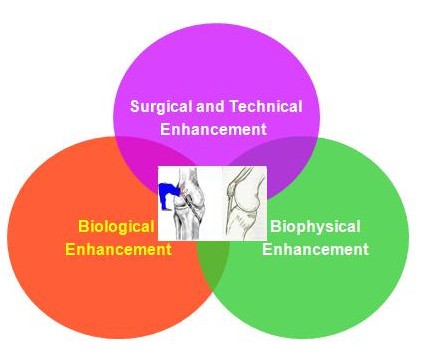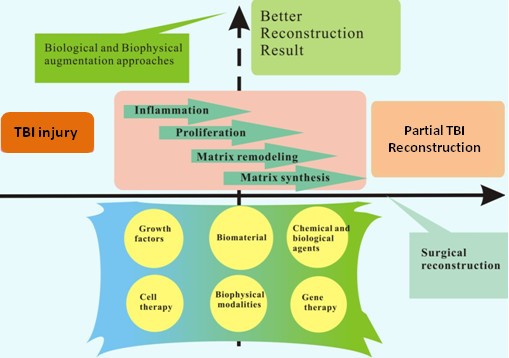 5.1 ACL reconstruction
Mechanical strength of tendon graft to bone tunnel attachment has been demonstrated to correlate with the amount of osseous ingrowth, mineralizaton and maturation of healing tissue[25, 49]. Strategies that can increase bone formation and reduce bone loss are being investigated for the improvement of tendon graft to bone tunnel healing. Various methods have been reported to improve healing of tendon graft inside bone tunnel. They can be classified into growth factors, biomaterial, chemical and biological agents, cell therapy, biophysical modalities and gene therapy.
6. Research Challenge and Prospect
Regeneration of the TBI is difficult after injury. This paper described the biology and the factors influencing direct tendon to bone healing using direct attachment of patella-patellar tendon and the tendon graft healing to bone tunnel in ACL reconstruction as examples. Recent work by our group and others in the improvement of tendon to bone healing was also discussed. Despite active research in the understanding of the healing process at the TBI, our understanding is still very limited. Firstly, the origin and maturity of TBI, especially the interpositional fibrocartilage layer have not been clarified. Secondly, the role of different growth factors, mechanical loading and extracellular matrix on natural TBI healing is still not clear. Thirdly, while various biological and biophysical approaches have been demonstrated to be effective for the improvement of TBI healing, the optimal dosage, timing and the underlying mechanisms remain for further investigations. For ACL reconstruction, despite the improvement in tendon graft to bone tunnel healing with different treatment modalities, the mechanical properties of the femur-tendon graft-tibia complex was still inferior to that of the normal ACL and the ultimate failure load can only reach 10-20% that of intact ligament-bone complex in animal studies although it should be noted that ultimate load is also determined by graft mid-substance remodeling besides the tendon graft to bone tunnel healing. Are we able to jump over this hurdle and achieve a higher ultimate load? Will the combination of different strategies give better results? Can we completely replace the tendon graft inside the bone tunnel by bone and recreate the normal tendon-bone insertion at the intraarticualr tunnel exit in ACL reconstruction? Much research needs to be done to improve our understanding and hence the outcome of TBI healing.
Authors' information
LPPY is currently the assistant professor in the Department of Orthopaedics and Traumatology, The Chinese University of Hong Kong, Hong Kong SAR, China.
ZP is an Assistant Professor and Director Aassistant of Translational Medicine Research & Development Center, Institute of Biomedical and Health Engineering, Shenzhen Institutes of Advanced Technology, Chinese Academy of Sciences, in Shenzhen, China.
QL is the Professor and Director of Musculoskeletal Research Laboratory, Department of Orthopaedics & Traumatology, The Chinese University of Hong Kong in Hong Kong, Hong Kong SAR, China and Director of Translational Medicine Research & Development Center, Institute of Biomedical and Health Engineering, Shenzhen Institutes of Advanced Technology, Chinese Academy of Sciences, in Shenzhen, China.
CKM is the Professor and Chief of Service, Department of Orthopaedics & Traumatology, The Chinese University of Hong Kong, Hong Kong SAR, China.
Declarations
Acknowledgements
This work was supported by Hong Kong Research Grant Council Earmarked Grant (08/001/ERG) and the Hong Kong Jockey Club Charity Trust.
Authors' Affiliations
(1)
Department of Orthopaedics and Traumatology, Faculty of Medicine, The Chinese University of Hong Kong, Hong Kong, China
(2)
The Hong Kong Jockey Club Sports Medicine and Health Sciences Centre, Faculty of Medicine, The Chinese University of Hong Kong, Hong Kong, China
(3)
Program of Stem Cell and Regeneration, School of Biomedical Science, The Chinese University of Hong Kong, Hong Kong, China
(4)
Translational Medicine Research and Development Center, Institute of Biomedical and Health Engineering, Shenzhen Institutes of Advanced Technology, The Chinese Academy of Science, Shenzhen, China
Copyright
© Lui et al; licensee BioMed Central Ltd. 2010
This article is published under license to BioMed Central Ltd. This is an Open Access article distributed under the terms of the Creative Commons Attribution License (http://creativecommons.org/licenses/by/2.0), which permits unrestricted use, distribution, and reproduction in any medium, provided the original work is properly cited.