Research article

Open Access
Patient and surgery related factors associated with fatigue type polyethylene wear on 49 PCA and DURACON retrievals at autopsy and revision
Journal of Orthopaedic Surgery and Research
2008
3:8
Received: 26 February 2007
Accepted: 22 February 2008
Published: 22 February 2008
Abstract
Background
Polyethylene wear is an important factor for longevity of total knee arthroplasty. Proven and suspicious factors causing wear can be grouped as material, patient and surgery related. There are more studies correlating design and/or biomaterial factors to in vivo wear than those to patient and surgery related factors. Many retrieval studies just include revision implants and therefore may not be representative. This study is aimed to correlate patient- and surgery- related factors to visual wear score by minimizing design influence and include both autopsy and revision implants. Comparison between the groups was expected to unmask patient and surgery-related factors responsible for wear.
Methods
The amount of joint side wear on polyethylene retrievals was measured using a modification of an established visual wear score. Fatigue type wear was defined as summation of the most severe wear modes of delamination, pitting and cracks. Analysis of patient and surgery related variables suspicious to cause wear included prospectively sampled patient activity which was measured by self reported walking capacity. Statistical analysis was done by univariate analysis of variance. Activity level and implantation time were merged to an index of use and correlated to the wear score.
Results
Wear score after comparable implantation time was significantly less in the autopsy group. Even so, fatigue type wear accounted for 84 and 93 % of total wear score on autopsy and revision implants respectively. A highly significant influence on wear score was found in time of implantation (p = 0.002), level of activity (p = 0.025) and inserts belonging to revision group (p = 0.006). No influence was found for the kind of patella replacement (p = 0.483). Body mass index and accuracy of component alignment had no significant influence on visual wear score. Fatigue-type wear in the medial compartment was closely correlated to the index of use in the autopsy (R2 = 0.383) and the revision group (R2 = 0.813).
Conclusion
The present study's finding of substantial fatigue type wear in both autopsy and revision retrievals supports the theory that polyethylene fatigue strength is generally exceeded in this type of prosthesis. Furthermore, this study correlated fatigue-type polyethylene wear to an index of use as calculated by activity over time. Future retrieval studies may use activity over time as an important patient related factor correlated to the visual wear score. When evaluating total knee arthroplasty routine follow up, the surgeon must think of substantial wear present even without major clinical signs.
Keywords
Total Knee ArthroplastyPatient Related FactorPolyethylene WearWear ModeImplantation Time
Background
Polyethylene wear in total knee arthroplasty (TKA) is an important limitation to longevity [1, 2] because it may cause osteolysis through particle disease [3] or instability due to substantial material loss as previously reported in many posterior cruciate retaining (PCR) designs [4]. Research of polyethylene performance is mostly done by lab studies where influence factors can be controlled more easily. Retrieval analysis has the advantage of reflecting in vivo service, but is done less often due to methodological challenges and reduced component availability. Retrieval studies usually include inlays retrieved at revision [5–8]. However, because they just reflect polyethylene performance from failed arthroplasty, the results may be different from the behaviour of well functioning total joint replacements. There are studies including autopsy retrievals [9, 10], but they provide unsatisfactory information on the difference between autopsy and revision retrievals. Also, most studies include a variety of different designs resulting in difficult quantification of non design related influences on the outcome measure.
Generation of polyethylene wear depends upon numerous factors [1, 11]. They can be grouped into three basic areas of research interest. Namely polyethylene wear related to patient-, surgery- and hardware- factors. A vast number of studies focus on design and material aspects. Especially researches about polyethylene fabrication and oxidation level due to gamma irradiation are extensive [1, 12–15]. On the opposite there are considerably less reports about patient- and surgery related factors. Concerning patient related factors we know about the importance of implantation time, patient weight and age [1, 16–18]. Activity level was expected to be a predictor for polyethylene wear in TKA for some time. This was due to technical considerations [19], and the proven fact in total hip arthroplasty [5, 8, 20] as well as the findings in recent lab studies [21]. To date there is one recent report supporting the hypothesis of increased activity level corresponding to more severe wear in TKA [9]. Surgery-related factors such as tibiofemoral and rotational alignment have been investigated, yet less extensively [18, 22, 23].
Wear modes can grossly be grouped into adhesive-abrasive and fatigue type wear [24]. The former is represented by polishing and abrasion on visual examination, and the latter by delamination and pitting. Fatigue type wear is generally thought to occur due to repetitive rolling and sliding. This process is thought to be slow, repetitive and eventually exceeds polyethylene fatigue strength as previously reported [24]. It is more serious, because once initiated it can be self perpetuating and soon lead to wear through of the polyethylene [5].
The present study was designed to focus on wear performance in autopsy and revision retrievals and identify patient- and surgery- related factors by minimizing hardware influence. We therefore included retrievals of just one design and manufacturer. Because there are two competing theories regarding the amount of fatigue type wear on autopsy and revision retrievals, our study's first target was to substantiate such a difference and support either theoretical concept. One theory is that inserts from autopsy should have none or minimal fatigue type wear. Assuming that autopsy retrievals had been used with satisfaction and therefore did not have revision. The other theory is that stress concentration in low conforming TKA designs exceeds polyethylene fatigue resistance leading to severe fatigue-type polyethylene wear even in so called well functioning implants, which is supported by lab studies [12, 25, 26] and other retrieval analysis [25, 27].
The second target was to find measurable differences in patient or surgery related factors between autopsy and revision group. Because in theory we expected autopsy retrievals to have lower mean wear score, we also expected patients that used their prosthesis till the end of their life to differ in some of the remaining influencing factors. Additionally for important influencing factors we expected to find a direct correlation to wear score.
Methods
Between 1994 and 2004 we sampled 49 PCL-retaining primary-TKA implants as part of a program of retrieval analysis at our clinic with special expertise in revision of infected total joint replacement. Reasons for revision were 13 loose components and/or polyethylene wear; 6 infections; 5 knee instabilities and 1 insufficient knee flexion. There were 40 in house patients and 9 referred cases. All in house patients had a routine follow-up with prospective questionnaire, clinical examination and standard x-rays at 1, 2, 5 and 10 years. All implants were made by the same company (Stryker-Howmedica, Allendale). The specimen cohort consisted of 25 inserts from consecutive patients revised at our institution and 24 inserts from autopsy. Table
1
lists the characteristics of the two groups. Values for these items were collected by retrospectively analyzing the patient records. Items are grouped by design, patient and surgery related factors. All inlays were irradiated gamma in air, with the exception of 4 Duracon inlays, which were irradiated in protection gas and subsequently DURATION
®
stabilized.
| Independent Variables | Autopsy | Revision |
| --- | --- | --- |
| 1. Retrieved Inlays [N] | 24 | 25 |
| 2. Implantation time [months] | 104.9 (0.8 to 199.0) | 92.0 (4.7 to 193.6) |
| Prosthesis Related Factors | | |
| 3. Prosthesis Type [PCA/PCAModular/Duracon] | 5/14/5 | 10/7/8 |
| 4. Resin Type [GUR4150/GUR1050] | 21/3 | 21/4 |
| 5. Sterilization with N2 Protection-Gas | 0 | 4 |
| 6. **Patella Replacement [Metal Back/Cemented/Unreplaced] | 4/5/12 (N = 21) | 10/4/10 (N = 24) |
| 7. Inlay Thickness According to Manufacturer [mm] | 10.4 (7.0 to 21.0) | 10.5 (7.0 to 21.0) |
| Patient Related Factors | | |
| 8. **Age at implantation [months] | 73.6 (53.7 to 87.1) | 66.0(48.4 to 80.3) |
| 9. **Walking capacity [Level 1, 2 and 3] | 7/4/6 (N = 17) | 3/8/11**(N = 22) |
| 10. Body Mass Index | 23.4 (16.3 to 29.4) | 26.6 (16.7 to 39.2) |
| 11. Preoperative Femoro-tibial angle [°]μ | 0.9 (18 to -28) | 1.2 (28 to -18) |
| 12. Knee Pain score at last F-up | 0.2 (N = 16) | 1.5 (N = 17) |
| 13. Patient Satisfaction score at last F-up | 2.6 (N = 16) | 1.8 (N = 17) |
| Surgery Related Factors | | |
| 14. Postoperative Femoro-tibial angle [°]μ | -5.7 (1 to -12) | -3.2 (5 to -12) |
| 15. Tibia component angle frontal plane [°]μ | 2.4 (5 to -2) | 2.3 (6 to -6) |
| 16. Tibia component angle sagittal plane [°]μ | 1.0 (5 to -9) | -1.9 (2 to -11) |
| 17. Femur component angle frontal plane [°]μ | -8.1 (-4 to -13) | -5.8 (12 to -10) |
| 18. Femur component angle sagittal plane [°]μ | -4.9 (-5 to 2) | -2.5 (-9 to 7) |
| 19. Index of unacceptable malpositioning | 1.1 | 1.2 |
| 20. Patellae with lateralization on axial view | 3 | 10 |
| 21. Instability Index | 1.0 | 1.8 |
Retrieved polyethylene inserts were photographed and assessed for wear by visual surface examination using a modification of an established wear score from Hood et al. [
7
,
19
]. Assessment was done by the second author, who was blinded to all patient-related data. To rule out intra-observer variation, wear rating was done twice several weeks apart. Definitive scores were subsequently calculated as mean values. Each insert's joint side was divided into 6 zones (Fig
1a
) in a pattern very similar to that used by Blunn et al [
7
]. Each zone was rated from 0 (none) to 3 (most severe) for the presence of each of the five wear modes: delamination, cracks, pitting, abrasion and polishing. Delamination was defined as sheets of polyethylene coming off the surface. Cracks were seen in some inlays presenting as white lines at the outer margins going through full thickness. They were graded as 0 (none) to 3 (most severe, with three or more cracks). Pitting was defined as irregularly shaped craters usually 2–3-mm in diameter and 1–2 mm deep. Delamination, pitting and full thickness cracks were defined as fatigue type wear modes. According to most authors they are closely related to stress exceeding material fatigue strength [
24
,
28
]. Abrasion was defined as tufted areas resulting from roughening usually when pieces of bone or cement were running over that particular inlay area. This mode was rarely seen and therefore was discarded in the calculation of the total wear score. Polishing was defined as highly polished areas most likely corresponding to adhesive loss of material. Delamination and pitting were the overwhelming majority of wear modes and usually caused substantial loss of material. Thus when calculating the total damage score for each zone, we incorporated a separate factor for loss of material ranging from 0 (none) to 3 (most severe), which was then multiplied with the number for delamination and pitting. For instance if a zone had a severely delaminated polyethylene and therefore gross loss of material the total damage score for delamination was 3 × 3 = 9. The grand total of wear score for one inlay was calculated by summation of scores for the six zones. The theoretical maximum score was 3 × 3 (delamination*material loss) plus 3 × 3 (pitting*material loss) plus 3+3+3 (cracks+pitting+polishing) multiplied by 6 zones = 162. Presence of third bodies (cement and metal particles) and erosion of central peg was noted separately.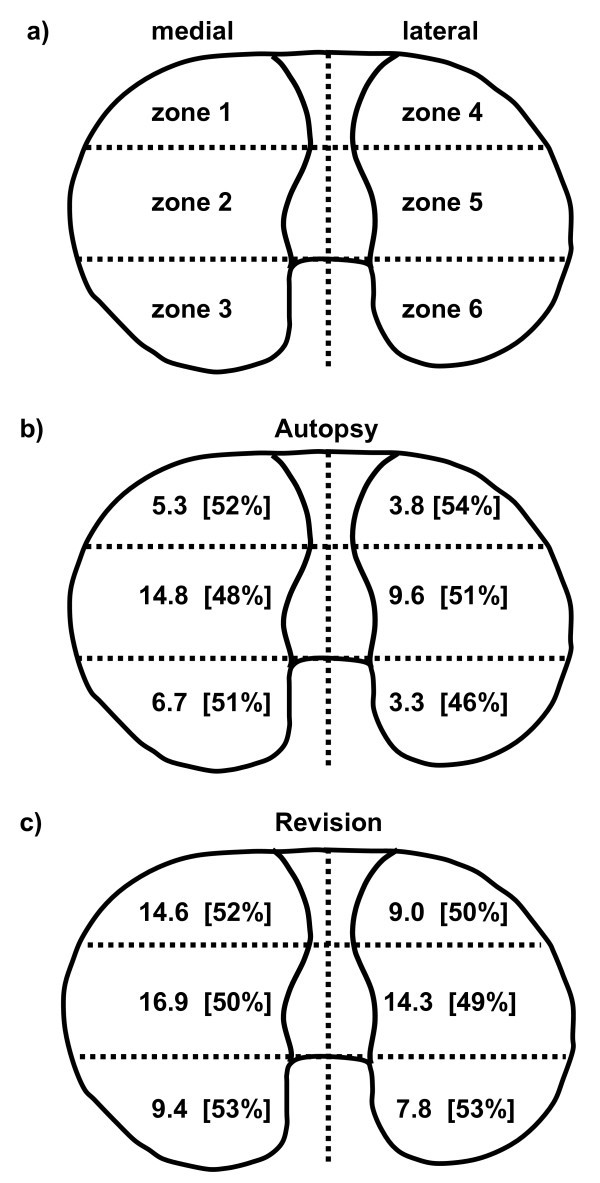 Patient related factors
Patient activity level was assessed by using the self reported walking capacity as a rough measure of activity. Prospectively sampled data was available for 30 of the in house patients. In the 9 referred cases activity level was assigned according to written preoperative history. Stratification of walking capacity in the questionnaire was simple and expressed as low (0–15 min walking capacity), medium (15–60 min walking capacity) and high (more than 60 min walking capacity). An index of use was calculated as the product of numeric activity level and implantation time to better reflect the effect of functional demand over time.
Where available the patient's scores for knee pain and satisfaction with the operation were noted. The stratification of these values was similar to that in walking capacity. 0 indicated no pain and no satisfaction, whereas 3 indicated most intensive pain and best satisfaction.
Surgery related factors
Tibiofemoral alignment on long leg radiographs and component positioning angles on both antero-posterior and lateral views were available for measurements in 42 of the cases (Fig
2
). An index of unacceptable malalignment was calculated according to x-ray analysis by summation of points. Points were given for tibiofemoral varus-valgus (δ exceeding ± 6°), component positioning in antero-posterior and lateral respect (α, β, g and ē exceeding ± 3°) and patella lateralization on the axial view. In a similar way an index of postoperative instability was calculated according to clinical follow up data. The amount of translation in antero-posterior and sagittal was graded from 1 (normal) to 3 (clearly abnormal) and points were summed to form the index.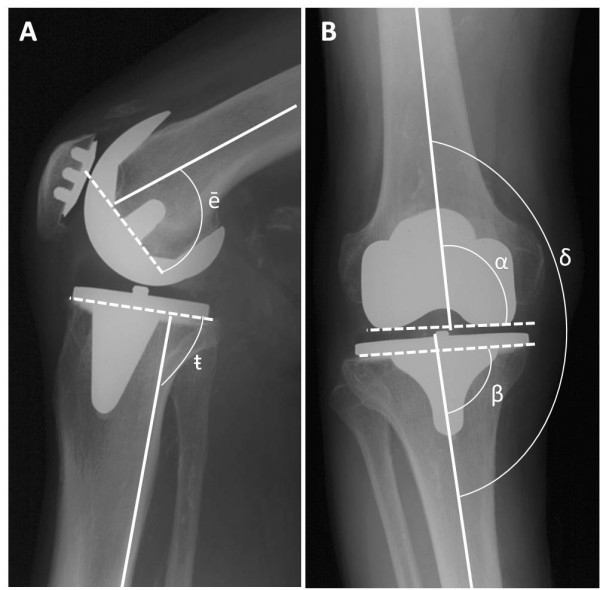 Statistics
To identify influence factors on wear score regression-analysis was done by univariate analysis of variance with wear score being the independent variable and 4 out of the 21 dependent variables listed in Table 1. We attempted to increase statistical power by limiting influence factors entered into definitive analysis, as the number of factors should correspond to the total number of samples divided by 10 in a meaningful regression analysis [13]. Therefore cluster analysis by spearman ranked correlation as similarity measure was done prior to ANOVA. This process yielded the 4 most important factors, namely implantation time, belonging to autopsy or revision group, activity level and patella replacement. Separate analysis was done for total wear score as well as medial and lateral compartment wear scores. Also partial wear score for fatigue type wear (delamination, pitting and cracks) was separately analyzed. Retrospective power analysis was computed using alpha = 0.05. Differences between revision and autopsy group for the remaining 17 items in Table 1 were separately evaluated by t-tests.
To test the assumption that inserts with higher wear scores were correlated to more distinctive use, the
index of use
was plotted against total medial (Fig
3b
) as well as medial fatigue type wear score (Fig
3c
) and linear regression was calculated. Probability curves were drawn to compare cumulative risk of fatigue type wear (delamination, pitting or cracks) and subsequently tested for difference via log ranked test. Calculation was done using the method of Kaplan-Meier and displayed as cumulative hazard plot (Fig
4
).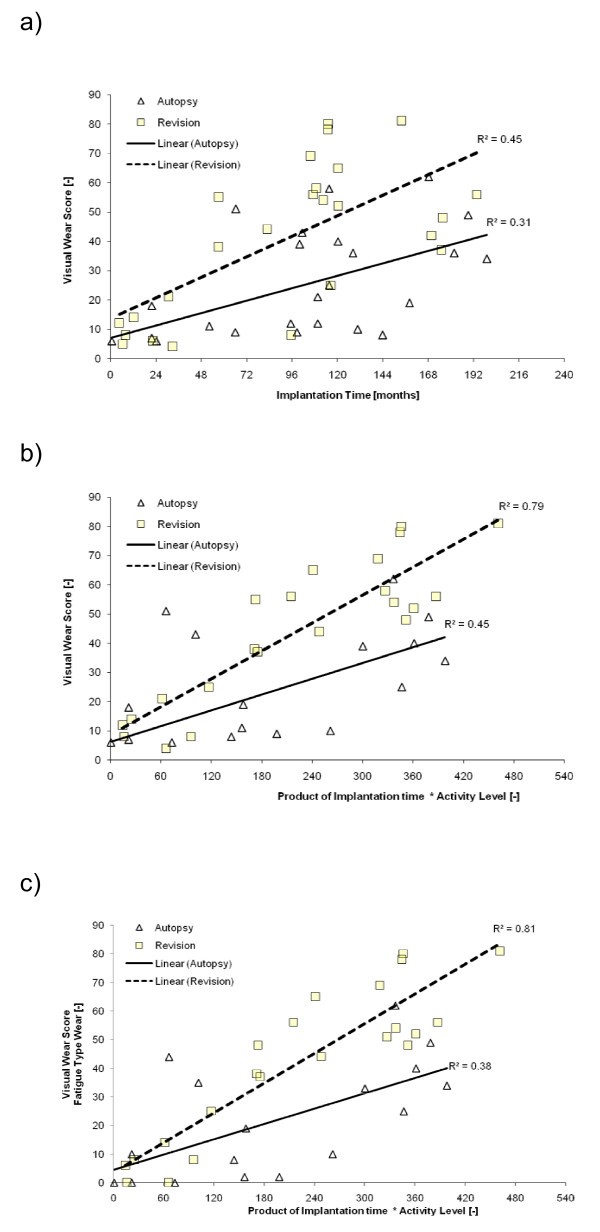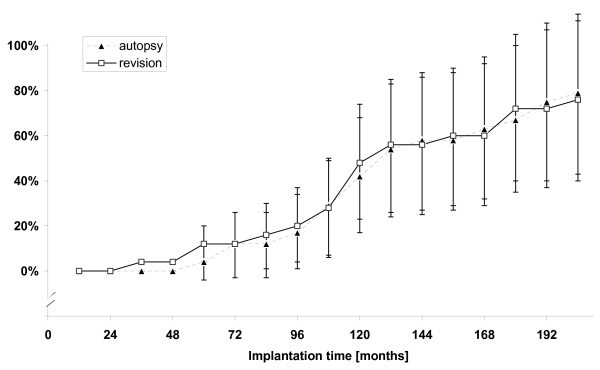 Conclusion
1) Comparison autopsy and revision: The present study's finding of substantial fatigue type wear in both autopsy and revision retrievals supports the theory that polyethylene fatigue strength is generally exceeded in this type of prosthesis
2) Patient related factors: Fatigue type wear in this type of prosthesis is closely related to the index of use as calculated by activity over time. We conclude that wear is promoted by activity over time. The index of use may be helpful for future investigation.
3) Surgery related factors: None of the alignment variables could be correlated to visual wear score. We conclude that with respect to visual wear score the effects of increased functional demand were more important than increased contact load as described by tibiofemoral alignment.
Declarations
Acknowledgements
The authors wish to thank the collaborators of Liestal Hospital: Prof. Gieri Cathomas and Mr. Christian Tosch, Department of Pathology Kantonsspital Liestal, for dissection and maceration and Mrs. Susanne Häfliger for helping collecting the patient's records.
We also wish to thank Mr. Andreas Schötzau, PHD for revising methods and statistical analysis.
Authors' Affiliations
(1)
Kantonsspital Liestal, Orthopaedic Department, Liestal, Switzerland
Copyright
© Rohrbach et al; licensee BioMed Central Ltd. 2008
This article is published under license to BioMed Central Ltd. This is an Open Access article distributed under the terms of the Creative Commons Attribution License (http://creativecommons.org/licenses/by/2.0), which permits unrestricted use, distribution, and reproduction in any medium, provided the original work is properly cited.